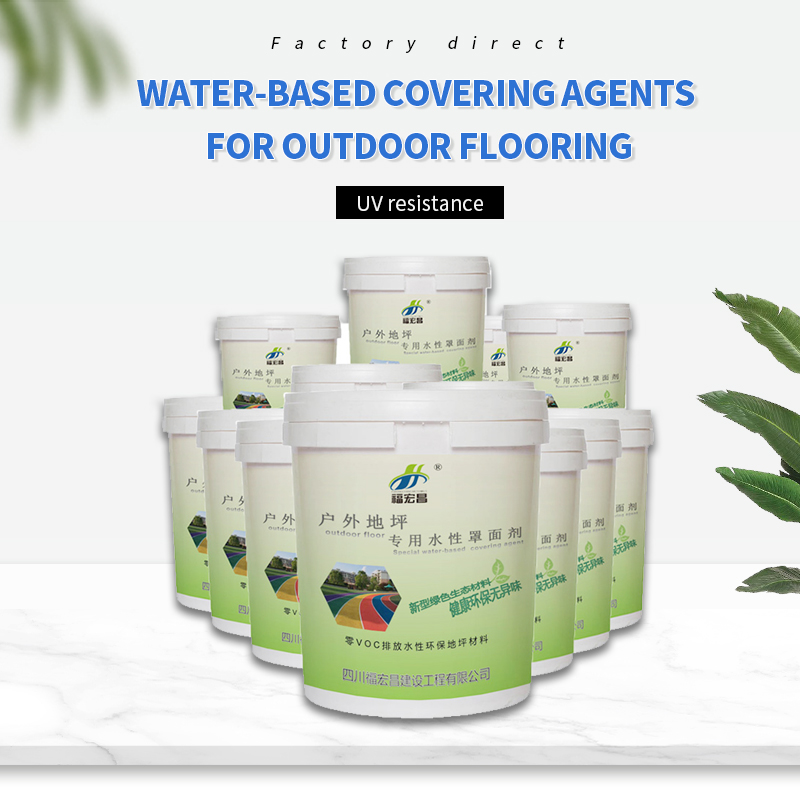 Water-based covering agent to form a rich film, high ductility, while having good weather resistance, water resistance, wear resistance, not easy to yellow, excellent hardness, good gloss and will not pollute the environment and other excellent performance is widely used. With water as the medium, the ecological environment has a great protective effect, because there is no organic solvent volatilization and residual, tasteless and pollution-free, when using spraying greatly reduce environmental and atmospheric pollution, can be used in parks, kindergartens and other places that have requirements for construction materials; can work directly in the wet or with moisture, water droplets, coloring, will not happen to drop paint, or the phenomenon of insoluble, high adaptability to the surface, can It can be used in places where the geographic environment is slightly poor; it adopts advanced film-forming technology, and the hardness of the paint film is high, the surface layer is hard and firm, strong abrasion resistance, high flexibility, and will not turn white because of collision; it has the characteristics of safety and non-flammability, and has a long service life. It can also be applied to the repair work of eliminating damage, restoring the original pavement flatness and improving pavement performance. It is widely used in color permeable concrete and open aggregate surface layer for sidewalks, greenways, neighborhoods, community roads, parks, squares, playgrounds, outdoor parking lots, outdoor stadiums, landscaped roads, light-weight roads, etc.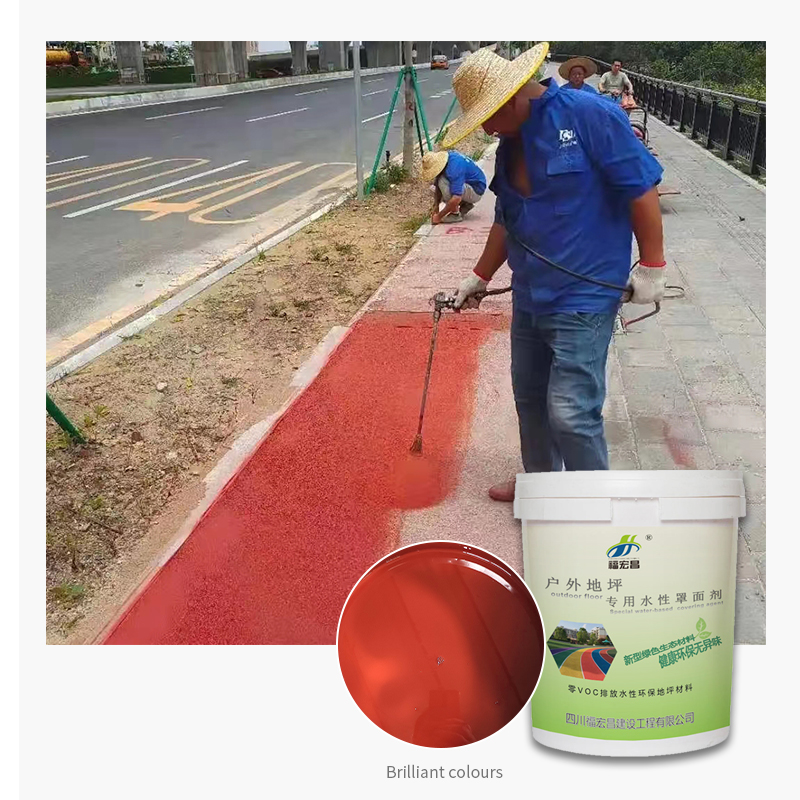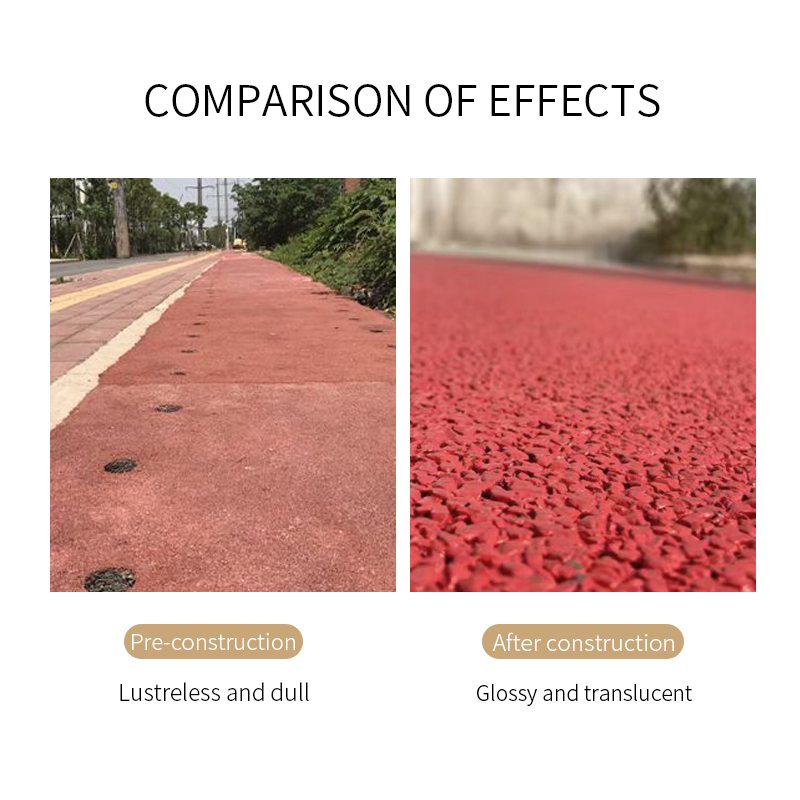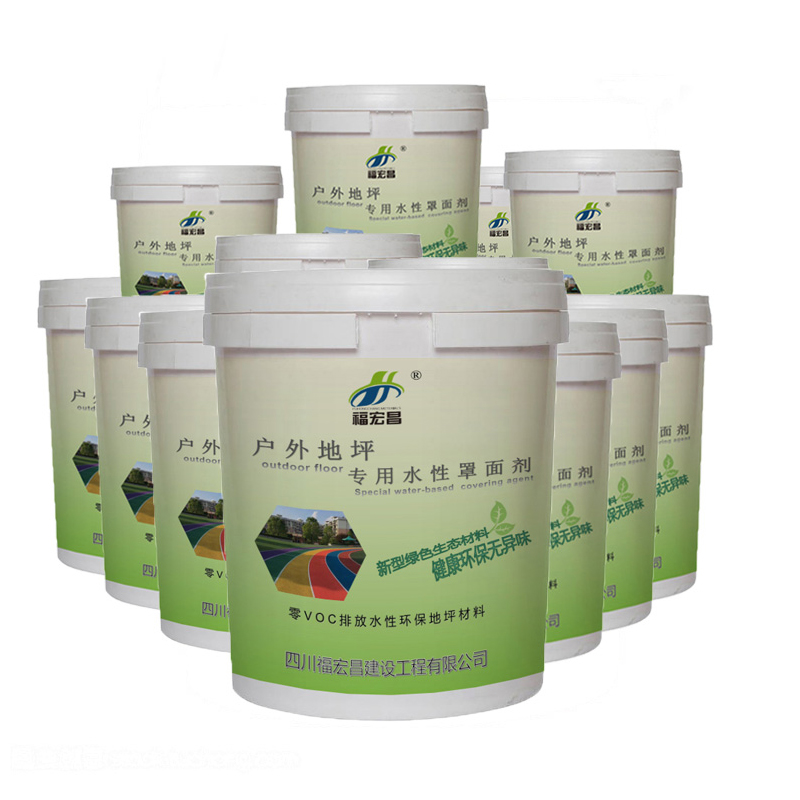 Water-based Covering Agent
Pervious concrete coverings are materials that provide protection for bare concrete and prolong the durability of concrete, specifically for sealing treatment after drying of colored strong pervious concrete or open aggregate pervious concrete. After the reaction of pervious concrete topping agent is completed, it will form a tough transparent and high gloss film, which greatly improves the wear resistance of the pavement and reduces the occurrence of aggregate falling off in use, providing lasting protection to the pavement and making it as bright as new within 5 years. The product can be processed into any color or transparent color that the user needs.
Its functions are: resisting ultraviolet rays, increasing the wear resistance and service life of pervious concrete surface; facilitating the cleaning and maintenance of pervious flooring surface; dense and smooth paint film, good staining resistance; safe and environmental protection, strong adhesion, easy construction; good permeability.
Sichuan Fuhongchang Construction Engineering Co was established in 2012, with a registered capital of 10 million yuan. It is a comprehensive entity enterprise integrating research and development, production, sales and construction of embossed flooring, permeable flooring, asphalt color change pavement, industrial flooring and other environmental protection building decoration materials, with unique advantages of talent and technology. The company has undertaken more than 100 landscape design and construction projects in Sichuan garden and municipal public welfare fields, schools, pleasure gardens, roads, communities and scenic areas, business districts, villa areas and other engineering construction. We have a professional team of garden and municipal engineers and architects to provide customers with comprehensive professional engineering design, technical consulting and construction services, construction backbone technical workers are professionally trained and have many years of construction experience, at the same time, the company has its own production line of construction materials and construction of the required construction vehicles, pumps, generators, cutting machines and mixers and other sets of (Taiwan) machinery, to meet the company's various types of landscape projects and municipal engineering materials and construction tools. The company has its own production line of construction materials and many sets (sets) of machines such as construction trucks, pumps, generators, cutters and mixers, which can meet the demand of materials and construction machines for all kinds of landscape and municipal projects.
Zhang Zhongli
1072264764@qq.com
Disclaimer: This article is reproduced from other media. The purpose of reprinting is to convey more information. It does not mean that this website agrees with its views and is responsible for its authenticity, and does not bear any legal responsibility. All resources on this site are collected on the Internet. The purpose of sharing is for everyone's learning and reference only. If there is copyright or intellectual property infringement, please leave us a message.